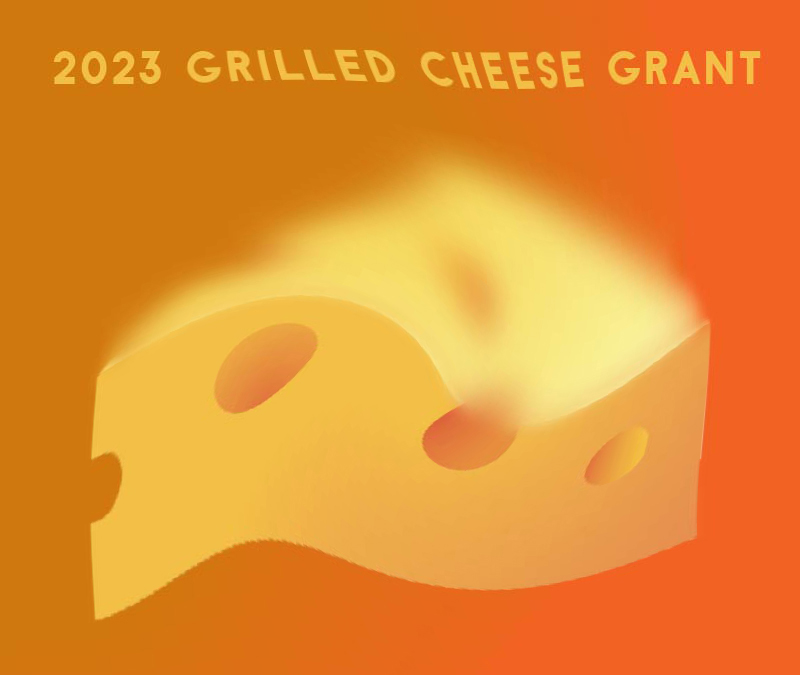 Applications Closed
Notifications will be sent the week of March 6, 2023

What is The Grilled Cheese Grant?
The Grilled Cheese Grant (GCG) is an annual community fundraising event and emerging artist grant that provides financial support for undergraduate seniors at The Milwaukee Institute of Art & Design (MIAD) and The University of Wisconsin-Milwaukee (UWM) who are working towards completing their senior exhibition projects in the areas of Fine Arts and/or Design. The Grilled Cheese Grant was created as a secondary platform for graduating seniors to receive financial support for their projects outside of their institution.

At the Grilled Cheese Grant, attendees donate $5 or more to receive a grilled cheese sandwich made with cheese and bread provided by local community organizations. In addition to grilled cheese, all attendees also receive a ballot to cast their vote for one of five selected finalists, chosen through an application process by a jury of creative professionals not directly affiliated with GCG, MIAD or UWM. Each selected finalist will exhibit work at Vanguard Sculpture Services (3374 W Hopkins St, Milwaukee, WI 53216) on April 1, 2023 for the Grilled Cheese Grant event.

The funds raised during the Grilled Cheese Grant are totaled and awarded to the selected finalists in the form of an artist/project grant to support their senior exhibition projects. The grant amounts are determined by the money raised during the event. Selected finalists receive the largest portion of funds and a percentage is retained by GCG organizers, collaborators and partners for future programming support. Additionally, a portion of the proceeds are donated to Diverse & Resilient, a local organization that supports the LGBTQ+ community.

The winners of The Grilled Cheese Grant are announced at the event and on the GCG social media after all votes are tallied and all funds are totaled. The selected finalists are ranked first through fifth place based on collected votes and each finalist receives financial support for their senior exhibition project. Grant award amounts are based on the total funds raised and each finalist's proposed budget is considered when funds are awarded. The Grilled Cheese Grant aims to fully fund the first place winner's senior exhibition project and partially fund all other projects. In addition, Grilled Cheese Grant finalists may receive professional development opportunities facilitated by members of the GCG team.

Eligibility:
Any current MIAD or UWM undergraduate senior working to produce a senior exhibition project is eligible to apply. Artists working in any media are encouraged to apply. Designers are encouraged to apply as long as their work fits within a fine art context. All applications should be treated as an artist/project grant. Finalists may be asked to give a brief artist talk, participate in a panel, and/or discuss the processes, materials, and concepts related to their work as part of GCG programming. Please consider this when applying.

Selected Finalists:
All applications are reviewed by a panel of jurors who select the top five scoring applications as finalists through a semi-blind jurying process. Jurying will take place in early March and selected finalists will be notified on or around the week of March 6, 2023. All notifications will be sent via email. Each selected finalist will exhibit work at Vanguard Sculpture Services (3374 W Hopkins St, Milwaukee, WI 53216) on Saturday, April 1, 2023 for the Grilled Cheese Grant event. Portions of the finalists' applications/proposals will be published online and may be on view during the exhibition to act as supplemental material for voters. Installation dates are tentatively scheduled for March 26-31, 2023 and specific installation details will be sent to selected finalists via email.